Visi & Misi
Vision
Dengan mengacu pada arah pengembangan jangka panjang ITB, maka visi Direktorat Teknologi Informasi ITB adalah :
"Supporting ITB to be world class university with innovation and the provision of information technology facilities that will increase the competitiveness of the institution."
More
The rapid development of technology has caused many changes in various industries to a form called Industry 4.0. Recent industrial developments have had a major impact on various industrial sectors, including the education sector. In fact, in general, this latest technological change has had a major impact on changing the shape of society, thus forming a new social order called Society 5.0 (super smart society).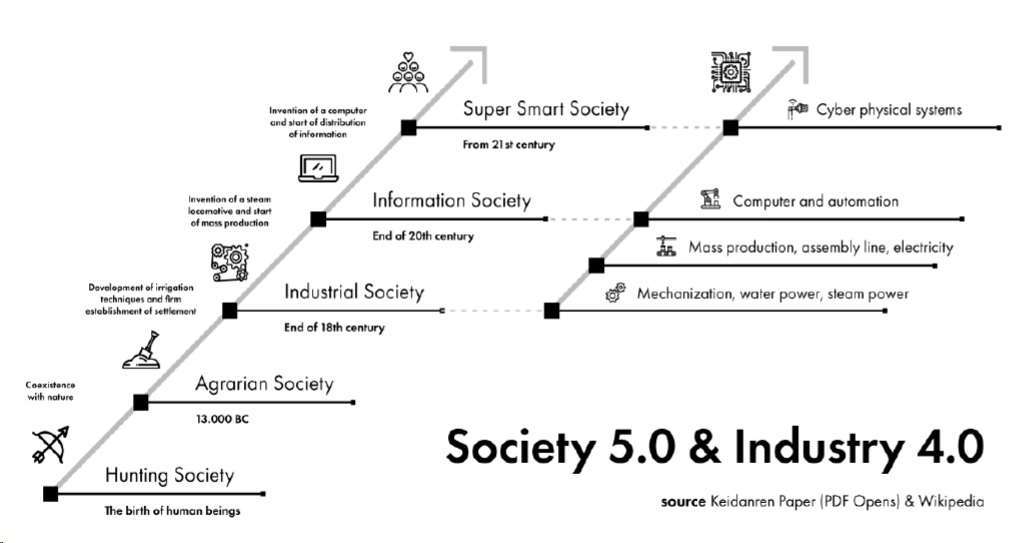 Image 1. Industry 4.0 dan Society 5.0

This rapid development has caused disruption in various industrial sectors. Any institution is faced with a choice: to change drastically, disrupt itself or be disrupted by others. One of the consequences of this rapid change is the need for every organization to always carry out self-evaluations to correct the organization's vision and mission and all its supporting infrastructure, including technology infrastructure. Information Technology is no longer the main technology that is generally used as a support for increasing automation and efficiency of business processes. In general, there are other key technologies that become "new enablers" to give birth to new innovations in any business, such as Big Data Analytics, Artificial Intelligence, Internet of Things, and so on.
Rencana strategis organisasi serta Rencana Strategis Teknologi Informasi (RSTI) menjadi hal yang sangat penting untuk menjamin ketersediaan infrastruktur teknologi yang selalu siap dan cukup untuk mendukung seluruh proses bisnis. RSTI tersebut harus selalu dijaga agar align (selaras) dengan renstra organisasi. Perkembangan teknologi juga berpotensi mendorong perubahan RSTI. Teknologi baru yang lebih efisien harus selalu menjadi pertimbangan dalam implementasi sistem. DTI sebagai salah satu Unit Kegiatan Pendukung di ITB mengemban misi untuk memberikan pelayanan Sistem dan Teknologi Informasi yang prima bagi seluruh sivitas akademika ITB dalam rangka mencapai visi ITB. Renstra DTI (RSTI ITB) 2021-2025 merupakan acuan strategis untuk pengembangan Sistem dan Teknologi Informasi dalam jangka waktu 5 tahun mendatang dengan memperhatikan rencana ITB dan lingkungan strategisnya. Renstra DTI ini akan mendasari penyusunan Rencana Kerja dan Anggaran Tahunan DTI dalam kurun waktu antara 2021 sampai dengan 2025.
Lihat_lebih_sedikit
Mission
Misi Direktorat Teknologi Informasi (DTI) sebagai unit pendukung kegiatan akademik dan non-akademik memiliki misi untuk mendukung pelaksanaan tridharma perguruan tinggi di ITB, dapat diuraikan sebagai berikut :
Menyediakan infrastruktur, aplikasi, serta berbagai layanan berbasis TI untuk mendukung kegiatan-kegiatan (1) Pendidikan dan Pengajaran, (2) Penelitian, serta (3) Pengabdian Kepada Masyarakat yang dilakukan oleh komunitas ITB.
Bekerja sama dengan berbagai pihak internal dan eksternal untuk meningkatkan kualitas dan kuantitas infrastruktur, aplikasi, serta berbagai layanan berbasis TI kepada komunitas ITB.
Melakukan asistensi kepada berbagai unit kerja di lingkungan ITB untuk pengembangan dan Operasional TI di unit kerja masing-masing.